If you are a content creator like us, you will find yourself in a struggle trying to find high quality and unique images, audio, and videos for your blogs, websites and apps!
We spend most of our time reading articles stored from multiple sources that could have been used to create better content. It's very tiring, isn't it? Envato Elements is one of the platforms where you can find many inventory assets, from photos to images, audio tracks, videos, fonts, email templates and even WordPress themes and plugins.
Today's article presents a detailed review of Envato Elements. We will examine its 12 features and also compare it to other popular stock trading platforms.
Let's check out Envato Elements!
In today's article, we have come up with detailed review of Envato Elements. We'll explore its features, 7 pros and 3 cons, and also compare it to other popular stock trading platforms.
Note: Envato Elements is not a sponsor of this review. All views and opinions expressed in this article are based solely on users experience and research. Are you ready to discover the most amazing platform for online content creators now? Let's take a look at our Envato Elements review!
What is Envato Elements?
The Envato Company was formed in Australia in 2006. It is the biggest marketplace for digital assets in the world. Their primary goal is to provide a consistently growing platform of digital resources for creators.
Their asset libraries include:
PhotoDune – Library of royalty-free stock photos
VideoHive – Comprises royalty-free videos and video templates
GraphicRiver – Collection of graphic templates, icons, logos, etc
AudioJungle – Library of royalty-free audios and audio templates
ThemeForest – Features themes and templates for websites
3DOcean – Has 3D print models
CodeCanyon – Comprises code snippets, scripts, and plugins
All these directories together form the Envato Market, where you individually pay for every asset.
So, what is Envato Elements? It's an online library of millions of digital assets.
As of now, you will find 1.3 million+ stock video clips, 52 million+ stock images, 510k+ royalty-free audios, and thousands of graphics, web templates, fonts, 3D templates, presentation templates, WordPress themes, plugins, video templates, and more on it!
Every week, they add thousands of new items to their list. You can get unlimited downloads of these assets by making a low monthly payment of $16.50/month.
Envato Market vs Envato Elements – What's the Difference?
Envato Market is the biggest marketplace for selling and buying digital assets. It comprises the best premium quality content. But the catch is, all items need to be purchased individually.
They make some selected content from Envato Market available in Envato Elements, which is a subscription-based service. Here, you get unlimited downloads for a low monthly/yearly fee.
We found the collection of Envato Elements pretty outstanding for the price point!
Envato Elements Assets:
Envato Elements brings an insane variety of assets on the table. All these elements are licensed, unique, good quality and single use.
They will surely make your content stand out! Let's check out the assets included in Envato Elements.
You will find a huge 1.3 million+ stock video footage and motion graphics on this platform. Along with that, the filter options are fantastic!
You can refine the results by Alpha Channel, Looped video footage, by resolution from 720p to 4K, by frame rate, video length, and more.
Simply hovering the mouse pointer over a video, previews it perfectly!
So, if you are only looking for royalty-free videos, then Envato Elements is superb for just the video collection, too. Even I take stock videos for my own videos from here!
The video templates section comprises icons, infographics, logos, titles, video displays, openers, and more! Envato Elements has 27k+ video templates, with thousands of custom transitions, effects, titles, etc.
It also supports major editing software like After Effects, Premiere Pro, Final Cut Pro, and Apple Motion.
You get to choose from a crazy 66k+ royalty-free audio tracks! These tracks can be refined by genre, mood, and instrument, and can be filtered by a variety of vocals, tempo of the music, and track length.
The sorting feature is good. It's so time saving and efficient. You will love their collection of music if you create vlogs, B-rolls, etc.
Nature sounds, Human sounds, Game sounds, Cartoon sounds, Industrial sounds, Transitions, Movements, and many many more sounds! Speak of it, and Envato Elements has it!
It has an enormous collection of 447k+ sound effects that can be filtered by sound length and looped sounds.
In their collection of 115k+ graphic templates, you will find UI and UX kits, Print templates, Scene Generators, Logos, Websites, Product Mockups, Infographics, and more.
You can refine the results by
Property – like Vectored or Layered
Color Space (RGB or CMYK),
Orientation (Landscape, Portrait, or Square)
Editing software supported – like Adobe Photoshop, InDesign, Illustrator, Sketch, Figma, and Adobe XD.
Desginers use Graphics for creating product mockups and infographics. Infographics work like a charm on your blogs! It helps you get more shares and backlinks.
So, once I publish more content on my blog, I'll also start focusing on Infographics.
This comprises 45k+ graphic elements including illustrations, patterns, icons, social media packs for stories, posts, banner ads, textures, backgrounds, objects, etc.
You can refine the results by
Property – like vectored, layered, tileable
File type – JPG, PNG
Software supported – Sketch, Figma, Affinity Designer, Adobe Photoshop, and Illustrator.
Companies and bloggers use graphics when they need to create photos for their websites, blogs, thumbnails for videos, and icons for their apps. All these require the use of a variety of unique elements.
You will love this if you need to create presentations daily. Envato Elements brings you a collection of 57k+ presentation templates and slide themes.
It offers wonderful presentation templates for Keynotes, PowerPoint, and Google Slides.
Now create eye-catching and professional-looking presentations in no time, and impress your colleagues
The collection of photos in Envato Elements is mind-boggling! You get 1M+ images from Envato Elements itself, along with 50M+ images
You can refine the results by
Color
Orientation (Landscape, Portrait)
Background (Isolated, Blurred)
If you compare it with other services like Free Stock Photos, etc, then Envato Elements is better!
Library of 7000+ creative and attractive fonts, that can be refined by
Category – Serif, Sans Serif, Decorative, Script, and Handwritten
Spacing
Optimum size (for poster, book, magazine, etc.)
Envato Elements features a collection of 4500+ add-ons including Actions and Presets, Brushes, and Layer Styles.
They can be refined by the supported applications like Figma, Sketch, Adobe Photoshop, Adobe Lightroom, and Adobe Illustrator.
Choose from 3000+ web templates available including admin templates, site templates, landing page templates, and email templates.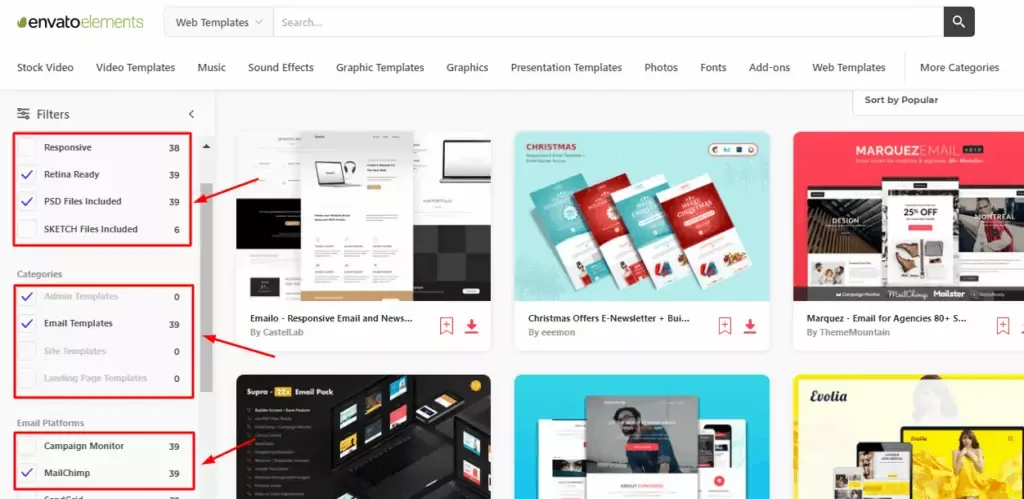 You can refine them by their properties like
Sketch files
PSD files
Responsive
Retina-ready.
Along with all these types of assets, Envato Elements also features 1100+ CMS templates (covering Joomla, Drupal, Tumblr, Opencart, Shopify, and more!), and 2600+ WordPress templates (including WordPress themes, plugins, and template kits).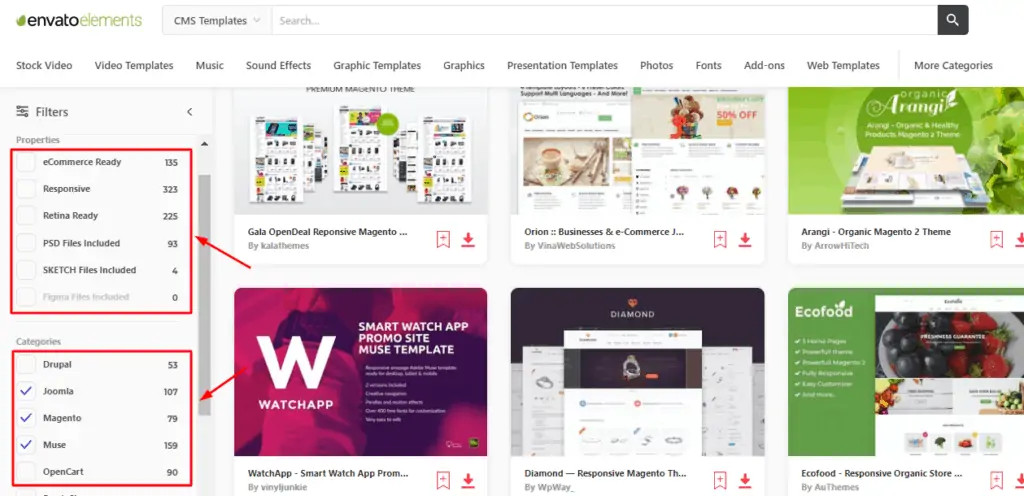 The results can be refined by tools they are compatible with, like
Elementor
Bootstrap
BuddyPress, etc.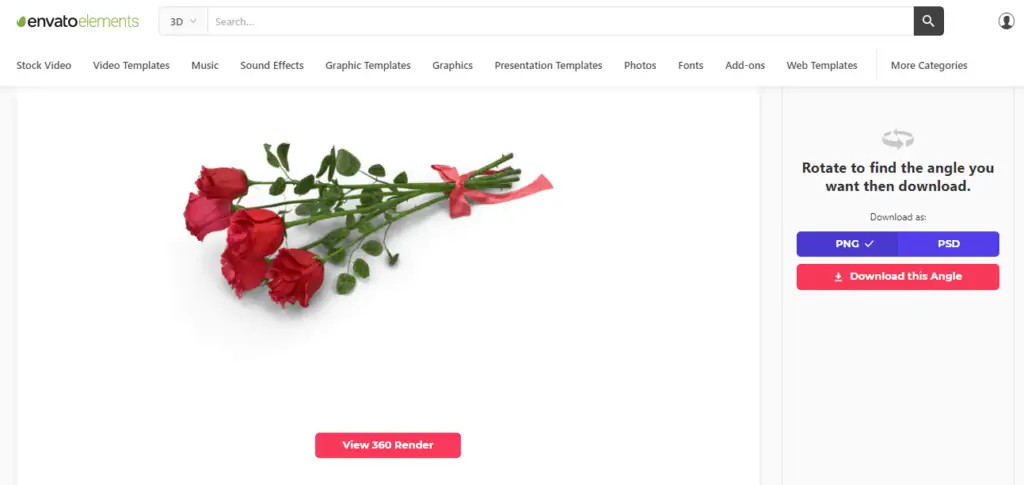 They also have 46k+ 3 Dimensional objects that can be rotated and viewed 360 degrees. You can download them from any angle in PSD or PNG format.
Envato Elements Plugin for WordPress
Envato Elements also provides its own plugin for WordPress based websites. If you use Elementor Website Builder, then this plugin would be super helpful for you.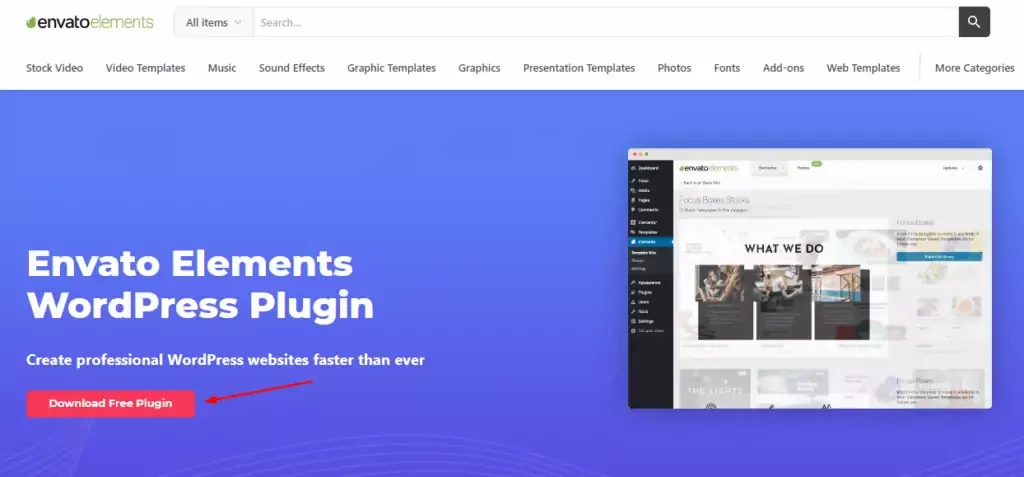 It can directly import stock photos and template kits into your Editor, so you don't need to go searching for stuff on their website. I found this plugin very useful!
Envato Elements Licensing Explained
The Envato Elements Licensing is very simple and most straightforward. Check out the following points to know what the Licence terms say.
Every item that you download from Envato Elements comes under a commercial license called the Envato Elements Licence.
This one simple license applies to all elements, so the users don't need to worry about getting different licenses for different types of assets! This streamlines the Licensing process for all downloads.
The license is single-use, meaning that it can be used only once. If you wish to use the same item in another project, it needs to be downloaded again and re-registered.
You get Future-Proof Licensing with Envato Elements. This means if you decide to end your subscription with Envato Elements, you can still keep using the already downloaded and registered elements.
The Envato Elements License comes with broad commercial rights.
So you are free to use it in multiple ways – on your personal projects, on your clients' projects, on ad campaigns, promotional events, and even on products you wish to sell!
However, there are a few limitations on what you can do with the licensed items.
Limitations in Licensing
Envato Elements restricts these activities on its Licensed items.
You cannot resell or redistribute any item downloaded from Envato elements. For example, downloading a stock image and selling on Shutterstock isn't allowed!
You cannot use the downloaded items for merchandising.
For example, printing a logo downloaded from Envato elements on a t-shirt (making no significant modifications to it) is not allowed.
You cannot copyright/trademark any downloaded assets. You just have the license to use the items, you don't essentially own them.
Is Licencing for Clients Possible?
Yes, you can provide a sub-license of the downloaded assets to your clients. How do you do that? Simply note down their details, including
The Date
Their Company's Name
Project Licence Name
A statement declaring that the particular item was bought on Envato Elements.
After you transfer this document to your clients, the sub-license applies automatically.
But make sure to inform your clients about the License limitations – that they cannot resell, modify, redistribute, or trademark the item in any manner!
Envato Elements offers a Monthly Plan, an Annual Plan, and a Teams Plan. You get unlimited downloads with all of them while the subscription is active.
The Monthly Plan costs $33/month.
The Annual Plan costs $198, which actually comes down to $16.50/month.
The Teams Plan allows 5 members for $10.75 each. The price varies according to the number of team members.
Students can get an extra 30% off on the Annual Plan. If you are a student, just provide your educational email id and enjoy the yearly subscription for just $11.50/month!
Along with this, all the plans feature free Envato Tuts+ courses, tutorials, and Ebooks. This is a great opportunity for students and learners!
Envato Elements accepts payments through Visa, MasterCard, PayPal, or American Express. You are also free to quickly cancel your subscription anytime with ease!
Adobe Stock Vs Shutterstock, Envato Elements, Placeit
Particulars
Adobe Stock
Shutter Stock
Envato Elements
Placeit
Photo Collection
60M images and videos
350M+ images

51M+ photos
21K+ photos and design templates
Video Collection
Numbers not revealed
20M+ videos
1.3 million+ videos
2547 video templates.
Graphics – Psd, Vector, Icons
Numbers not revealed
75M+ vectors,

119M+ illustrations
115k+ graphics
10k+ logo templates,

22k mockup templates
Music
Numbers not revealed
12k+ audio tracks
66k+ royalty-free music tracks
1300+ audio tracks
WordPress Themes
N.A.
N.A.
2600+ WordPress templates
N.A.
Support
V.Good
V.Good
Good

No support for WordPress themes and plugins
Decent
Price
10 assets

$49.99 P.M
$29.99 P.M if paid annually
10 Images

$49 P.M
$29 P.M if paid annually


Unlimited assets

$33 P.M
$198/year



Unlimited Subscription:

$14.95 P.M
$89.69/year



Free Trial
30 days free trial
30 days free trial
7 days free trial
No free trial
License
Standard License

Enhanced License

Extended License
Standard License

Enhanced License (Only for on-demand packs)
1 simple commercial license
Standard Commercial License
Visit Website
Get Adobe Stock
Get Shutter Stock
Get Envato Elements
Get Placeit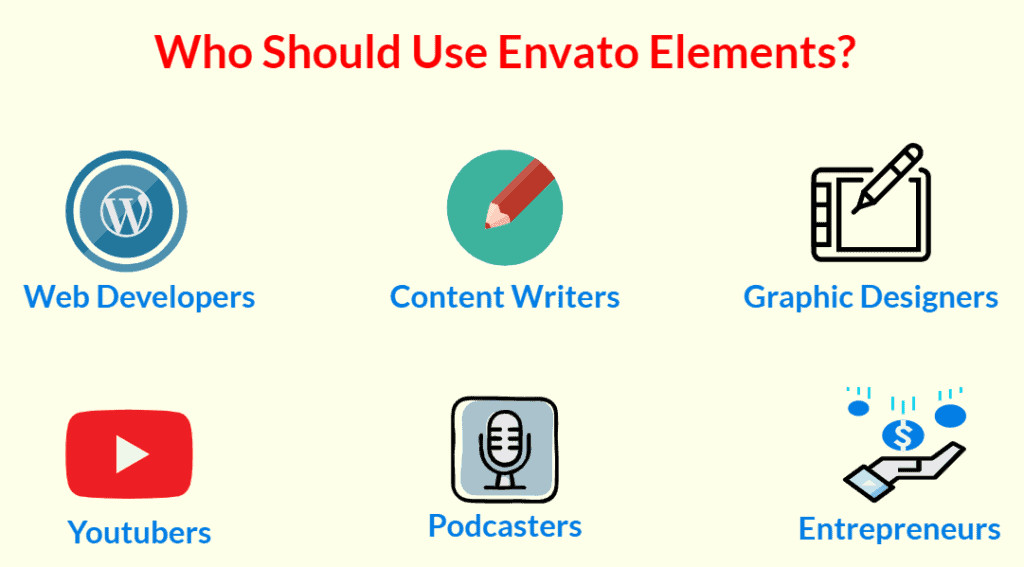 Envato Elements has something for all of us! It is well suited for:
Web Developers and Designers who need codes, HTML templates, WordPress themes, plugins, logos, and icons, etc for designing their apps and websites.
Bloggers and Content Creators who need stock photos, fonts, and graphic templates for their blog posts.
Graphic Designers and Illustrators who work with a variety of fonts, logos, illustrator files, graphic elements, templates, styles & LUTs.
Video Editors and YouTubers looking for royalty-free stock video footage, music, and video templates to use in their videos.
Audio Creators, Music Producers, and Podcasters looking for royalty-free music and sound effects to make their content even more awesome!
Freelancers, Entrepreneurs, and Business Executives who want ready-made templates to create innovative designs that stand out!
Envato Elements is the perfect repository of millions of unique items for anyone who creates visual and audio content. You should definitely try it!
Is Envato Elements worth it?
Well, after buying it twice and using it for more than a year I can say that it is DEFINITELY worth every penny!
If you are into any type of online business, or audio/video/graphic content creation, Envato Elements is going to be a game-changer tool for you.
And if you're still not sure about investing in it, then there's no harm in surfing, right? Visit Envato Elements and decide for yourself.
Surf around and check if it has anything that you might need for your work.
Alternately, you can also create a free account that offers you 12 premium licensed items for free per month! Now, that's a sweet deal right there!
Conclusion
With this, we have reached the end of this review. I hope this article helped you decide if Envato Elements is the right choice for you.
So, are you going to buy it? Or have you used it before? How has your experience been so far? Let us know everything in the comments section below.