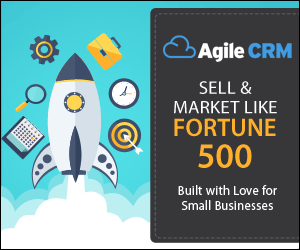 In the realm of customer relationship management (CRM) solutions, Agile CRM has emerged as a powerful and versatile option for businesses of all sizes. With its robust set of features, intuitive interface, and competitive pricing, Agile CRM offers a comprehensive platform that empowers organizations to streamline their sales, marketing, and customer support processes. In this article, we delve into an in-depth review of Agile CRM, exploring its key features, pricing plans, and other essential aspects to help you make an informed decision.
Feature Highlights:
1. Contact Management: Agile CRM provides a centralized database for managing contacts, including detailed profiles, activity tracking, and custom fields. It allows businesses to easily import and export contacts, segment them based on various criteria, and track their interactions throughout the customer journey.
2. Sales Automation: With Agile CRM, sales teams can automate repetitive tasks, streamline workflows, and focus on high-value activities. Features such as lead scoring, deal tracking, and email tracking enable effective pipeline management, while task automation and reminders ensure timely follow-ups and improved productivity.
3. Marketing Automation: Agile CRM offers robust marketing automation capabilities to create personalized campaigns, automate email marketing, and track customer engagement. Businesses can segment their audience, deliver targeted messages, and measure campaign performance to optimize marketing efforts and generate higher conversion rates.
4. Customer Support and Helpdesk: Agile CRM includes a built-in helpdesk and customer support system, enabling businesses to manage customer inquiries, track tickets, and provide timely assistance. Features like ticketing, knowledge base, and live chat enhance customer satisfaction by ensuring prompt and efficient support.
5. Analytics and Reporting: Agile CRM provides comprehensive analytics and reporting features to gain insights into sales performance, marketing campaigns, and customer behavior. Customizable reports, dashboards, and visualizations help businesses track key metrics, identify trends, and make data-driven decisions to improve overall operations.
Pricing Plans:
Agile CRM offers a range of pricing plans tailored to the needs of different businesses:
1. Free Plan: Ideal for small businesses or startups, the Free Plan includes basic CRM features for up to 10 users, with limitations on certain advanced functionalities.
2. Starter Plan: Priced at a competitive rate per user per month, the Starter Plan offers additional features such as advanced contact management, email campaigns, and web engagement tools.
3. Regular Plan: Designed for growing businesses, the Regular Plan expands on the Starter Plan with advanced sales automation, marketing automation, and customer support features.
4. Enterprise Plan: Tailored for larger organizations with more complex requirements, the Enterprise Plan provides advanced customization, integrations, and dedicated support.
It's worth noting that Agile CRM offers a 14-day free trial for any paid plan, allowing businesses to explore the platform's capabilities before committing to a subscription.
Ease of Use and Integration:
Agile CRM prides itself on its user-friendly interface, making it easy for businesses to adopt and navigate the platform. The intuitive design and well-organized menu structure contribute to a smooth user experience, ensuring quick onboarding and seamless adoption.
Additionally, Agile CRM offers seamless integration with popular third-party applications, including email marketing platforms, helpdesk software, collaboration tools, and more. This allows businesses to leverage their existing tools and enhance Agile CRM's capabilities to suit their unique requirements.
Customer Support:
Agile CRM provides responsive customer support through various channels, including email, live chat, and a knowledge base. Users can access detailed documentation, video tutorials, and community forums to find answers to their questions and gain insights into best practices. Additionally, paid plans offer priority support and personalized assistance for more complex issues.
Pricing
Conclusion:
Agile CRM offers a comprehensive suite of features, competitive pricing plans, and a user-friendly interface, making